Tromstinden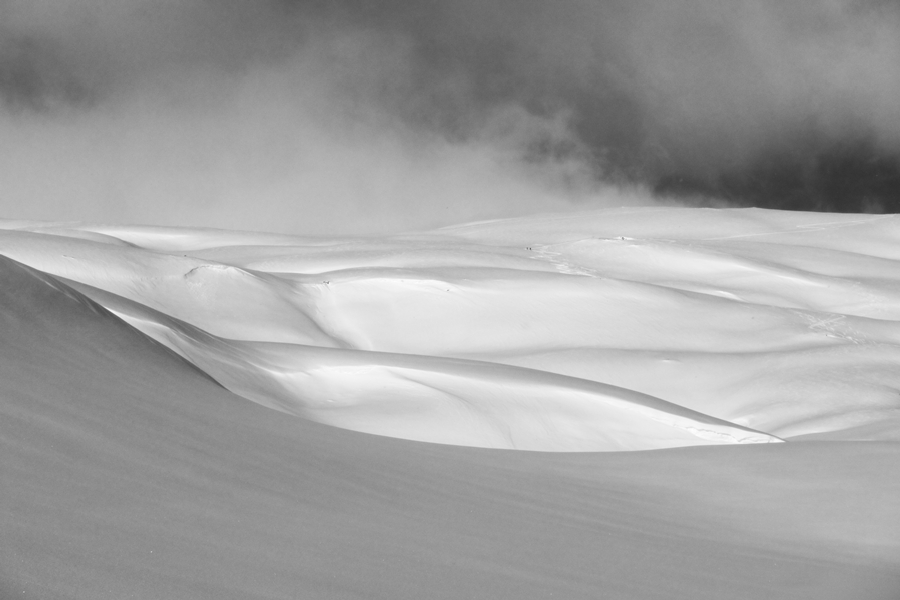 Auf der E8 von Tromsø nach Süden, zwischen Hundbergan und Fagernes ist links ab "Asko" ausgeschildert. Etwa 500 m weiter auf diesem Sträßchen gibt es einen recht großen Parkplatz. Von dort steigen wir zum Tromdalstinden hoch. Zuerst geht's nach Nordosten unter der Stromleitung entlang. Noch vor dem Bach Eliaselva biegen wir rechtwinkling nach links ab, der Aufstieg beginnt.
Eigentlich wollen wir mit unseren Schneeschuhen nicht bis zum Gipfel, die Lawinengefahr ist uns heute zu hoch. Also bis zum Pass Salen und noch ca 100 Höhenmeter aufwärts, um etwas mehr Sicht auf Tromsø zu bekommen.
We take road E8 from Tromsø to the South. Between Hundbergan and Fagernes there is a signpost "ASKO" to the left. The road leads to a parking lot, from where we start our snowshoe tour to Tromdalstinden.
First North-East under the powerline, then before crossing Eliaselva, North-West straight upwards!

In fact we don't intend to go to the summit. Avanlache risk is important, and there is a lot of fresh snow… So we have decided to go until we reach the pass at Salen, but we continue for an other 100 m uphill to get a better view of Tromsø.
Par la E8 depuis Tromsø direction Sud, entre Hundbergan et Fagernes il y a une signalisation "ASKO" vers la gauche. Là, après 500 m environ, on trouve une aire de parking, d'où nous démarrons notre randonnée à raquettes vers Tromdalstinden.
D'Abord quelques centaines de mètres sous la ligne de haute tension direction nord-est, puis, avant d'arriver à Eliaselva, on tourne à gauche et l'ascension se fait direction nord-ouest.
Mais en principe nous ne voulons aller que jusqu'à Salen. Le risque d'avalanche est trop grand pourque nous prétendions vouloir accéder au sommet. Mais une fois arrivés à Salen nous montons encore une centaine de mètres plus haut, jusqu'à ce que la vue sur Troms ø devienne meilleure.
Splendides vues, de la poudreuse en masse, et même s'il y a pas mal de randonneurs et une bise de plus en plus forte, on ne regrette nullement notre choix.