Wir starteten auf Malangen (Mauttunnel im Südosten von Kvaløya nach Malangen, dann über die Straße an der Westküste entlang) mit Ziel Kvannfjellet.
Wir starten beim Hof Fjellskardal
Das Wetter hatte auf der Vorhersage besser ausgesehen als es anschließend war. Ab 400 Höhenmetern konnte man vor lauter Weiß ohne jeglichen Schatten kaum mehr erkennen, wo man die Schneeschuhe hinsetzte.
Wir beschlossen etwas östlich von Punkt 516 umzukehren.
Auf der Rückroute entlang der Küste kam es dann dich noch zu einigen interessanten Bildern…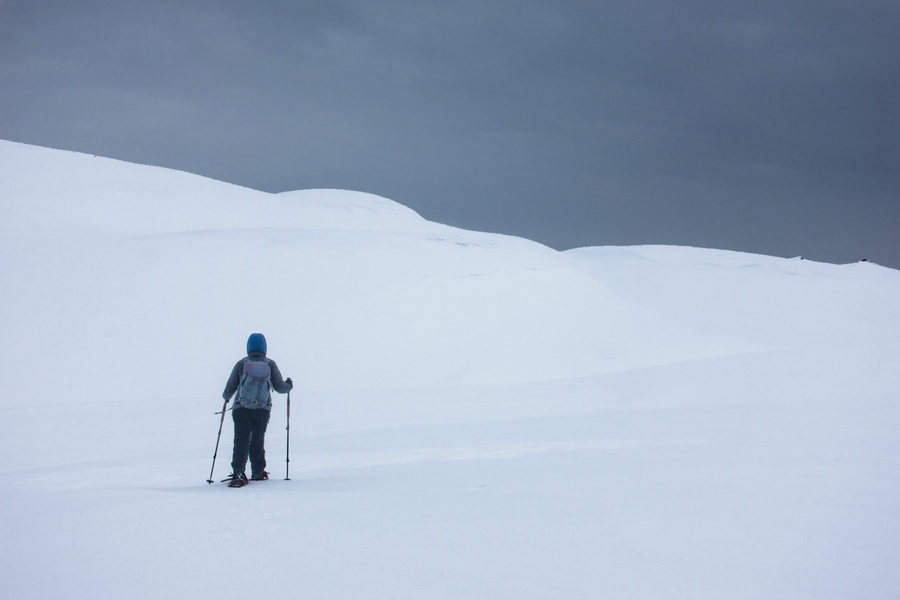 We started for our today's snowshoe tour in Malangen. From Kvaløya there is a tunnel (toll road) to Malangen. Then you drive along the west-coast. We parked the car near Fkjellskardal. From the road we took through the forest North-East. We passed point 490 am and point 516 m, but the way to Kvannfjellet wasn't easy to find.
The weater forecast had been rather optimistic, with some sunshine, but at 500 m a.s.l. impossible to see anything else than white… With the avanlanche risk being as it was, we thought it would be too dangerous to continue in unknown terrain and we turned around.
Even then we had some difficulties to find our own tracks down. We never got lost, but…
Once again on the coastal road back to the tunnel, we managed however to get a few nice shots…
Notre départ de randonnée à raquettes était Malangen. Un tunnel à péage au sud-est de Kvaløya mène à Malangen, puis notre route nous mène le long de la côte ouest à notre destination: le sommet de Kvannfjellet.
La météo avait été plus optimiste que ce que le ciel nous avait réservé. A partir de 400 m d'altitude on ne pouvait plus distinguer où on mettait les pieds: rien qu'une étendue blanche, sans ombres, nous donna bien de la peine à trouver um chemin sûr, à estimer les pentes peu enclin à la descente d'avalanches. Nous avons donc décidé de rebrousser chemin vers une altitude de 560 m.
Sur la route du retour le long de la côte nous avons néanmoins trouvé quelques bons endroits pour réaliser des photos…